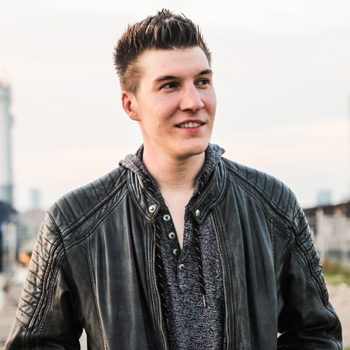 Gerald Peter
Keyboardist, Composer, Producer
GERALD PETER was born in Vienna, Austria in 1986, and is a passionate keyboardist, seaboard player, producer, composer and technology enthusiast. He was on tour with Cirque du Soleil – VOLTA as a show band musician and is a former ROLI seaboard specialist. He has also previously released two albums with his bands Circle of Illusion and Inspirational Corner and one EP with his solo project The Gerald Peter Project.
He first raised public awareness in the progressive rock scene back in 2013 with the concept album Jeremias – Foreshadow of Forgotten Realms by his 8-piece band Circle of Illusion. In this album, he played keyboards and composed and produced the music. It was listed on Jordan Rudess' (keyboardist of Dream Theater) featured artist site and was also ranked on the 2013 top albums lists of music magazines (progarchives.com, musicinbelgium.net, myglobalmind.com, etc.)
"I think it's just amazing what you can do with SWAM engine because it allows you to make the different instruments like strings or breath controlled instruments sounding so realistic, just from you playing the keyboard in realtime. That's really cool!"
In 2015, he released his debut album Chameleon Lab Explosion along with his 4- piece band Inspirational Corner, where he incorporated more funk, jazz, fusion elements to his music. This creation received a number of positive reviews from German music magazines (Legacy, Hoerspiegel.de, Testmania.de, Ragazzi Music, etc.)
A former ROLI product specialist and active seaboard performer, Gerald has created a number of performance video clips on his YouTube channel. In 2016, he also performed with the seaboard at the NAMM show in California, Musikmesse in Frankfurt, and at many other workshops and exhibitions all over Europe. At the NAMM show in 2018, he was demonstrating the iOS instrument GeoShred on the iPhone in cooperation with moForte and Jordan Rudess from the band Dream Theater.
He took part in the international 'CINE Film Scoring Competition'n 2014, where the composition he created for a short animation movie was ranked in the top 12.
Gerald Peter never studied music at a conservatory. Instead, he took private lessons from various classical and jazz pianists for several years starting at the age of 10. In his early 20s, he also attended a variety of music workshops including Berklee's Umbria Jazz Clinics and Hollywood Music Workshop in Vienna, with Harry Potter soundtrack orchestrator Conrad Pope. Gerald also holds a Masters Degree in Multimedia and Software Development from which stems his passion for technology and computer graphics.
His latest EP Incremental Changes – Part One with The Gerald Peter Project is the first of a trilogy where he combines all his passions, not only showcasing his ability to compose, produce and perform music on all of his instruments, but creating the video and MIDI reactive visuals that respond to all the notes being played. He is currently working on Part II and Part III of his solo project trilogy titled Incremental Changes.