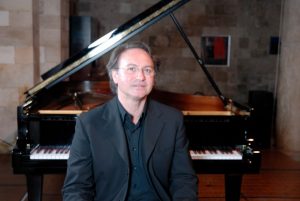 Vito Reibaldi
Pianist, Professor
Born at Canosa di Puglia (Italy), Vito Reibaldi attained in only six years and with full marks the Diploma in Piano under the guidance of Maestro Camillo Baccigalupi in the Conservatory "U. Giordano" in Foggia. He then perfected in Naples with Maestro Vincenzo Vitale, in Salzburg with Maestro Carlo Zecchi in the prestigious "Mozarteum", and in Florence with Argentinian Daniel Rivera.
He has always been well received amongst the public and has obtained the approval of critics in specialized press. He has won competitions and festivals both as a soloist and as an accompanist.
His artistic mastery enables him to treat with ability and competence classical music and jazz alike.
He is the inventor of an interactive system that makes it possible for the soloist, aided by the computer and Audio MIDI equipment, to perform a variety of concerts for soloists and orchestras in the flexibility of agogic and dynamics produced by interpretative emotionality.
In April 1998 he was awarded "The individual prize" as the best pianist at the "XVI International Spring Festival" of Pyongyang (North Korea), where he represented Italy in seven live television filmings he made, both as a soloist and as an accompanist, for the state broadcasting channel.
The winner with full marks of a public competition for the teaching in Italian Conservatories,
Reibaldi is a Regular Professor and holds the chair of Piano Practice at the Conservatory "N. Piccinni" in Bari. Since 2005 he has taught various disciplines related to Music Informatics both in the tritium and in the two-year specialistic magistral course.
He recorded a monograph CD "Concert in Jazz" with music by Nikolai Kapustin reviewed so flattering and honored by the nomination of a major magazine Musica & Dischi:
Prize "Best of 2008" in the classical section Instrumental – Italian soloists.
Prize aurora 2021 award for record works.
The Russian composer, whose repertoire is the trend in the most daring music scene today, namely the fusion of traditional classical forms (sonata, suite, studio, escape, etc..) with jazz styles
improvisational more intellectual and refined, has also dedicated to him his 18th Sonata for piano.
"Thanks to the playability and versatility of Audio Modeling's SWAM instruments I found the stimulus to orchestrate the rather daring and complex pieces of my piano repertoire through a new concept based on the "One Man Band".
The soloist is able not only to perform but also to conduct at the same time, in a flexibility that comes from the emotionality of interpretation, using a virtual orchestra which, thanks to SWAM, sounds as if it were real.
In addition, the Camelot application is the ideal support during my live performances because, with its complete MIDI implementation, it allows me to do everything without a DAW therefore avoiding unpleasant inconveniences."