Audio Modeling – CAMELOT 2.0 a "Must Have" for Live performance
/wp-content/uploads/2021/06/blog-post-1-1024x576.png
1024
576
Audio Modeling
//audiomodeling.com/wp-content/uploads/2018/06/AM-logo-light.png
Audio Modeling – CAMELOT 2.0 a "Must Have" for Live performance
On stage or at home (Home Studio), many musicians wonder how to manage Keyboards, Sound Modules (hardware and software), MIDI Controllers…
Until now, musicians using Apple computers had MainStage which not only allows you to manage all these peripherals but also embeds the sound modules delivered with Logic Pro X. This is great and comes at a very affordable price compared to the possibilities of the product.
Yes but what about PC users, I hear you say? There are other applications that have been developed which are more or less known or more or less well distributed but they've remained in the shadows of MainStage which is widely used by many professionals all around the world.
So, the Italian company Audio Modeling, (who is also developing a series of virtual instruments using their SWAM engine), has made a software that seems to address the desire of a growing number of musicians looking to integrate various hardware components (Synthesizers, Sound Modules, Keyboards of controls, MIDI controllers…) with software applications (Virtual Synthesizers, Virtual Effects…). This software is CAMELOT Pro 2.0.
I don't know if the name chosen by Audio Modeling refers to the Arthurian legend, but it could be that Audio Modeling is looking for the holy grail for all musicians on the planet.
I admit, before CAMELOT was released I was using Apple's MainStage. But when CAMELOT version 2.0 came out, and after downloading the trial version, I started using it and discovered not only a very simple and intuitive software but also a very powerful tool.
At first glance, I wasn't particularly thrilled by the looks of the graphical interface. Compared to other current software, we can say CAMELOT is minimalist (graphically speaking… this is a personal opinion). But behind this first misleading impression, CAMELOT is much more than what it looks like. In fact, as soon as you scratch the surface, you discover a monster of power and ergonomics. Everything in this software was done precisely to allow users to perform complex tasks with disconcerting simplicity (to be honest, I only opened CAMELOT's online "Quick Guide" to dig into more sophisticated features after using it for a week, only to find out they were much easier to implement than I thought).
Let see what CAMELOT is capable of:
First, CAMELOT is available on Windows, Mac OS, and IOS (this already differentiates it from MainStage which is only for Mac OS users).
CAMELOT is mainly used to create routines to keep musicians focused on what they like to do … music, while CAMELOT's job is to take care of all the grunt tasks.
The Quick User Guide on the Audio Modeling site is very well done. I won't go over all the features in detail but I will try to offer, as much as possible, suitable features for Wind controller users in future articles.
So, what do we need to make music on stage?
First, you need something to generate musical notes (a keyboard, a Workstation, a wind controller, a MIDI controller…), one or more sound modules (Synthesizer, Expander, hardware or software), and a PA system (or equipment allowing you to connect to such a system like a Mixing Console, PA equipment, amplified speakers or an audio interface, etc…).
During a concert or a stage performance, you'll want to play a set of pieces one after the other in a pre- established order but you also need the possibility, if necessary, to easily modify this order at any time. This is called a Setlist in CAMELOT. Depending on the nature of your concerts, it's possible to create several Setlists (in the example below "Show 2019", "Work In Progress" and "Show 2020 Part 1" are Setlists and song titles contained in each setlist are displayed on the right side of the screen). The pieces that make up this Setlist can be moved at any time by simply clicking and dragging (difficult to do simpler).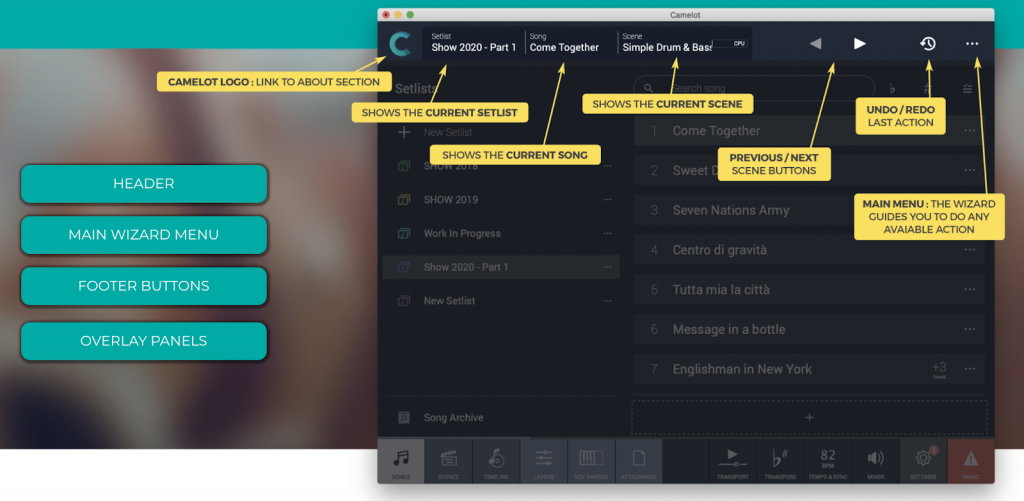 For each of the pieces you are going to play, you'll need one or more controllers (Master Keyboard, Wind Controller, MIDI Pedal, etc.) to control and play one or more sounds (more or less complex, effects, etc.) as well as music sheet and, if you play alone, possibly one or more backing tracks. CAMELOT acts as "your conductor by proxy" by organizing all these elements in a simple way.
First, tell the program which hardware you want to use. To do this, go to "System Settings".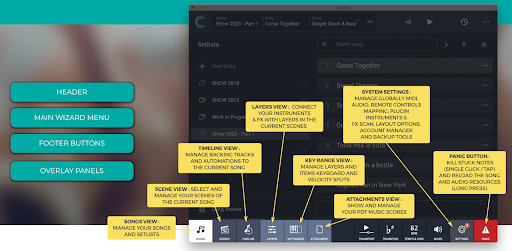 With these parameters, you can tell CAMELOT which equipment you're using. (I advise you, as a first step, to define at least the sections Audio and MIDI to establish the connections with your equipment and then to try a simple configuration in order to familiarize yourself with the different tools).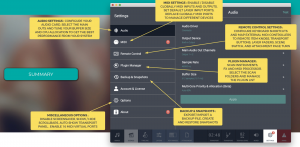 Audio: This allows you to configure your audio card, select the ASIO driver of your card to limit the
latency, and define the audio outputs you want to use.
MIDI: This allows you to define which MIDI inputs and outputs you'll use (ex: for "Class Compliant"
equipment—equipment that you connect directly via USB to your computer and which is recognized
without having to install a specific driver—their name will be displayed directly in the list. If, on the
other hand, your equipment is connected via DIN MIDI, you'll need to select the MIDI port to which
they are connected.
Remote Control: This allows you to define which component to use for switching from one song to
another, for starting the playback, etc…. (I'll come back to these features later).
Plugin Manager: This allows you to scan folders on your computer where your virtual synths, virtual
effects, MIDI processors, etc. are installed, and to manage them efficiently.
Backup & Snapshots: This is where you can export or import your backups, as well as create and
restore your Snapshots.
Accounts & License: In this section, you can visit the Audio Modeling site to download the new
versions of CAMELOT or, if you are using the evaluation version, convert it to a full version.
Options: Various options which we will come back to later.
About: Gives you information such as which version of CAMELOT you are currently using.
Note: When an exclamation mark (!) appears in red, it means CAMELOT has detected a problem in one of its sections. It's advisable to go and see what the problem is (e.g. missing MIDI connection, etc…).
Then, everything is simple. In almost all of CAMELOT's pages when you have a dotted rectangle with the "+" sign in the center, you can create something new. (ex: in the 1 st page you can create a new Setlist, in the second page a new Song, in each song, new Scenes, and in each scene install new sound modules, Effects, Layers, etc…) A window will appear where you can indicate the name of the object and save it by clicking "Done".
To be followed … closely.
Other important information, Audio Modeling is also developing their SWAM instruments based on their SWAM engine to IOS. No doubt that the CAMELOT / SWAM combination on IOS should allow musicians playing wind controllers to have a light and efficient alternative to racks loaded with sound modules that are unmovable over time. However, as the price of these instruments will be more economical, the version offered on IOS will be limited (fewer adjustments possible, however, if you have the full version on Mac or PC, it will be possible to import presets including all the settings of the Mac or PC version on the IOS in order to have the complete settings).
Freely translated from SaxFred Blog (in French)
Audio Modeling – Camelot 2.0 – Application for "LIVE"
Camelot d'Audio Modeling is the direct competitor of Apple's Mainstage, they do not yet provide the same functionalities, but Camelot has caught up and even overtook its competitor in a lot of areas and above all has the big advantage of being multi- platform (Windows, Mac OS and IOS) which allows to create overly complex configurations and above all to allow musicians on PC to benefit from the same environment as on Mac and IOS.
For a few weeks now I have been using this program for several reasons, on the one hand I use both the Mac as well as the PC and IOS for music and especially Camelot is much easier to use than its direct competitor, much more intuitive and yet extremely powerful. In Camelot you get the impression that everything has been thought of for efficiency, not the right graphics just the essentials to achieve the desired result, to make music without having to be a computer scientist. No frills, simplicity, once you understand Camelot's logic everything is extremely easy, to implement.
Camelot allows combinations of incredible sounds mixing, Synthesizers, and Hardware and Software effects, MIDI processors, seamless sequences of sounds, in the song, we can even automate these sequences thanks to the contribution of an audio track (playback) as well as the display of the score (the sequences are done without having to take your eyes off the score). Even the chaining of songs can be done automatically. Likewise, if you play a transposing instrument (ex: Saxophone Alto Eb, Clarinet Bb) and the score you have is in the key to your instrument and you use a Camelot Wind Controller transpose the MIDI part. you no longer must worry about modifying the transposition on your MIDI controller between each song, Camelot takes care of it itself.
I advise you to refer to the article on Camelot that I did in the Blog section for additional information.
Freely translated from SaxFred Applications' section (in French)
https://saxfred.1ere-page.fr/applications-mac/