Available from February 26, 2020.
The Audio Modeling Team has been working hard to build "Solo Brass" instruments. They deliver unrivalled realism and expressivity for which SWAM Engine technology has become famous.
35% OFF
For PRE-ORDERS until January 31, 2020
EDU discounts and Upgrade paths do not apply to PRE-ORDERS. Check all FAQs
SWAM Solo Brass is a collection of solo brass instruments conceived and developed by Stefano Lucato and all Audio Modeling team. These instruments are based on Physical Modeling technology and do not make use of any samples.
SWAM Solo Brass collection includes twelve instruments, grouped by product families:
SWAM Trumpets

Flugelhorn, Trumpet (Bb), Trumpet (C), Piccolo Trumpet
€250 / $250
€162 / $162
SWAM Trombones
Double Bass Trombone, Bass Trombone, Tenor Trombone, Alto Trombone
€250 / $250
€162 / $162
SWAM Horns and Tubas
Bass Tuba, Euphonium, French Horn (F), French Horn (Bb)
€250 / $250
€162 / $162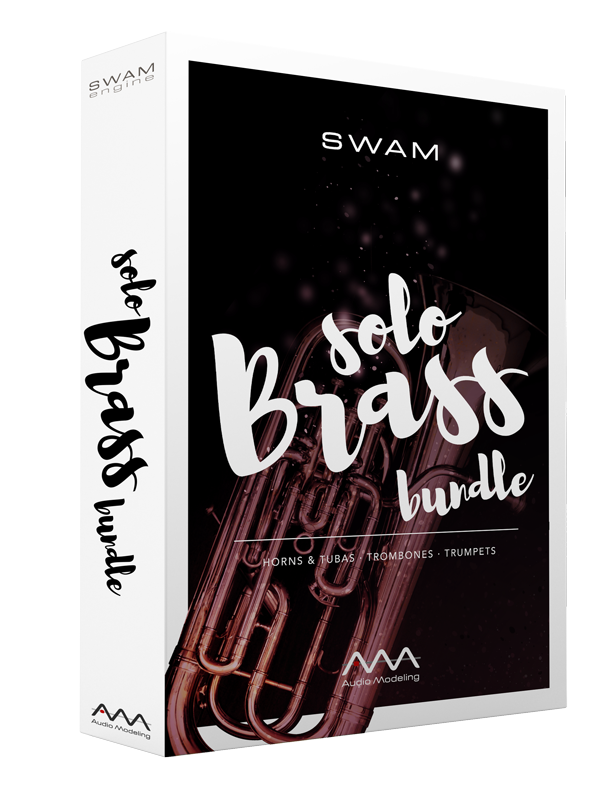 SOLO BRASS BUNDLE
Great Deals with Bundles: get the entire family at once!
Trumpets, Trombones and Horns & Tubas.
€600 / $600
€390 / $390
(Value of € 750/ $ 750)
SPECIFICATIONS

Supported formats and OS
Audio Units, VST, VST3, AAX 64bit
Mac OSX 10.11 (El Capitan), macOS 10.12 (Sierra) – 10.15 (Catalina)
Windows 7, Windows 8, Windows 10

Small footprint!
Required space after installation: 60 MB single product, 180 MB bundle
RAM occupancy: about 15 MB for each instrument instance

CPU load
The realism and expressiveness of the SWAM instrument requires a computer with at least a 1.6 GHz Core 2 Duo CPU for a single instrument. Less powerful systems may also prove satisfactory, but may require larger buffer sizes, involving higher latencies.
F.A.Q (FREQUENTLY ASKED QUESTIONS)
DIGITALLY HANDCRAFTED INSTRUMENTS
Developed by Audio Modeling using SWAM Technology, SWAM Solo Brass are real-time controllable via a MIDI controller and do not require any Giga-sized pre-recorded libraries, but only the smallest footprint to create the perfect organic consistency resulting from the endless expressive parameters that are unique of every live performance.