PRODUCTS OF THE BUNDLE
The Solo Strings family powered by SWAM-S Engine includes:
SAVE WITH BUNDLES AND UPGRADE OFFERS
Violin, Viola, Cello and Double Bass
SOLO STRINGS BUNDLE
Great Deals with Bundles: get the entire family at once!
Violin, Viola, Cello and Double Bass.
360 EUR/USD 241 EUR/USD (Value of 480 EUR/USD)
If you have already some instruments, you can complete the Bundle at a convenient price from the Customer Portal!
v3 RELEASE HIGHLIGHTS
Powerful MIDI Mapping feature that supports CC, Hi-Res CC, After-Touch NRPN, and remapping curves that allow more customization and sensitivity to any controller.
Realistic Legatos
New Pizzicato Model

General Sound improvement and behavior of bowed string
Timbral correction feature. You'll be able to select up to two harmonics to adjust (for emphasis or reduction).
Standalone version, introduced VST3 plug-in format, and Native Instruments NKS compatibility.
Real-time bow Sensitivity Control (on bowing mode). This gives you the ability to transform the bow, from a short bow with soft strokes to a full-length bow with strong strokes.
The kind of control and realism SWAM Solo Strings offer have never been heard before in modeled instruments!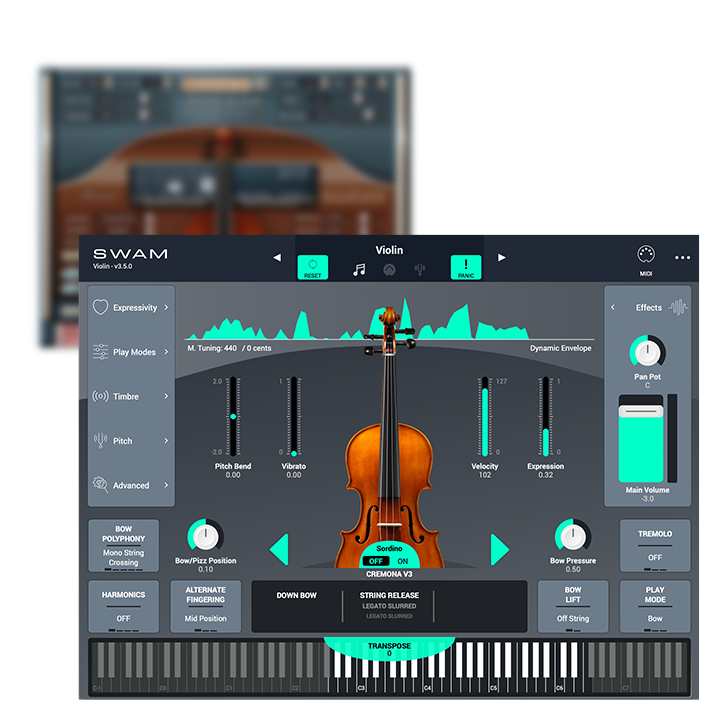 For Solo Strings v2 Owners
v3 UPGRADE DEALS
If you are a proud owner of any of Solo Strings v2 (Violin, Viola, Cello, and Double Bass), you can upgrade to Solo Strings v3 for a discounted price.
Each instrument upgrade price is 48 EUR/USD
(with a 60% discount from the full price of 120 EUR/USD)
Solo Strings Bundle Upgrade price is 144 EUR/USD
Upgrades and bundle completions can be done automatically from your account in our Customer Portal. The portal shows the products you already own and the available products. After logging in to your account, navigate to the tab "Only for you". There, you'll see the options available for you.
All options and prices are automatically calculated according to the products you already purchased. To complete the checkout and purchase one of the options listed, click on the UPGRADE button next to it.
FRIENDLY FOR BLIND AND VISUALLY IMPAIRED USERS
SWAM instruments offer an inclusive music-making experience for blind and visually impaired musicians. With their user-friendly interface and accessibility features, SWAM instruments enable visually impaired users to fully engage in the creative process without any barriers. Users can navigate the instruments with ease and focus on making music, regardless of their visual ability. With SWAM instruments, everyone can enjoy the joy and therapeutic benefits of music-making.