Setlist, Song and Scene Manager

Multitrack Audio Player. Timeline and Automations

HARDWARE INSTRUMENTS MANAGER
The MIDI engine in Camelot is not limited to sending only basic messages, it delivers you a plug & play experience with your Instruments. Camelot Smart Maps deeply communicate with Hardware devices, allowing you to recall your hardware presets with minimal knowledge of MIDI.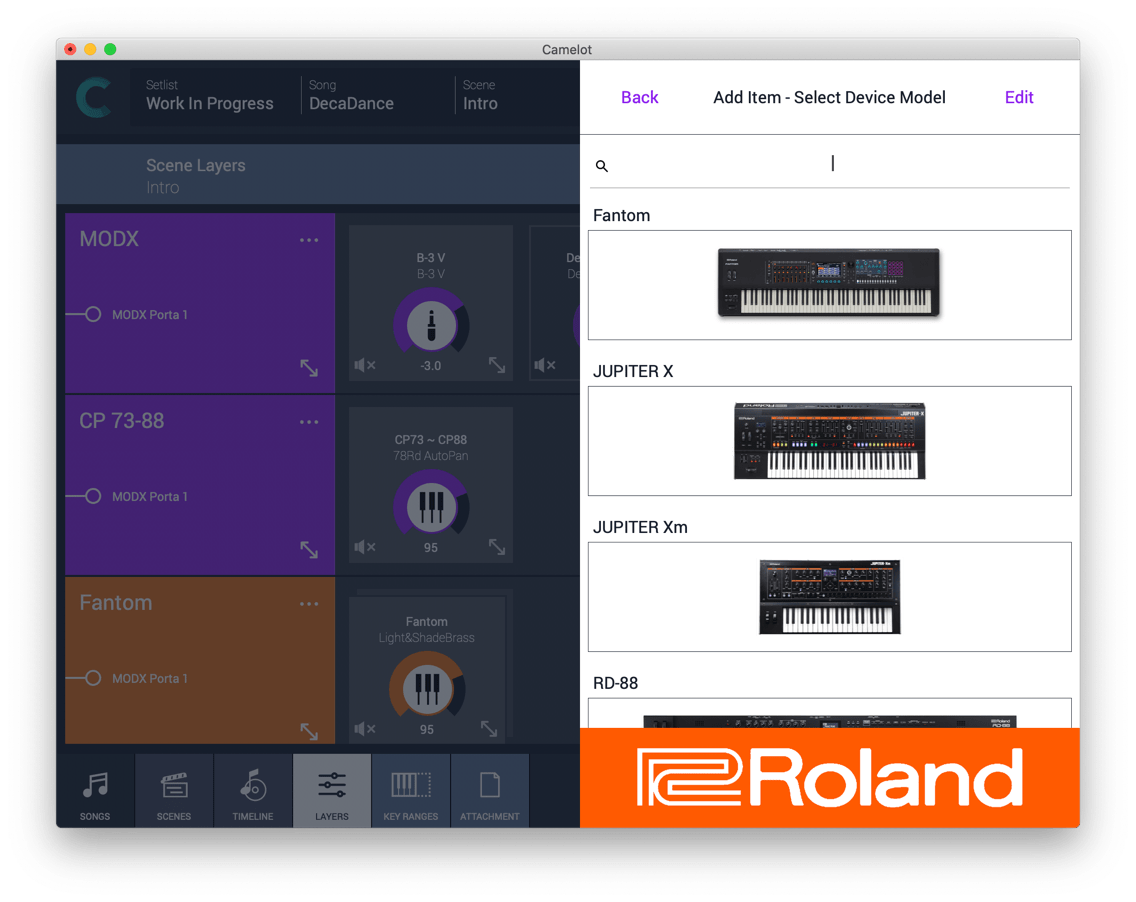 You can tweak your sounds without creating new presets on your instruments. Expand the Item, select the CCs and move the Faders to apply changes to the Tone Generator.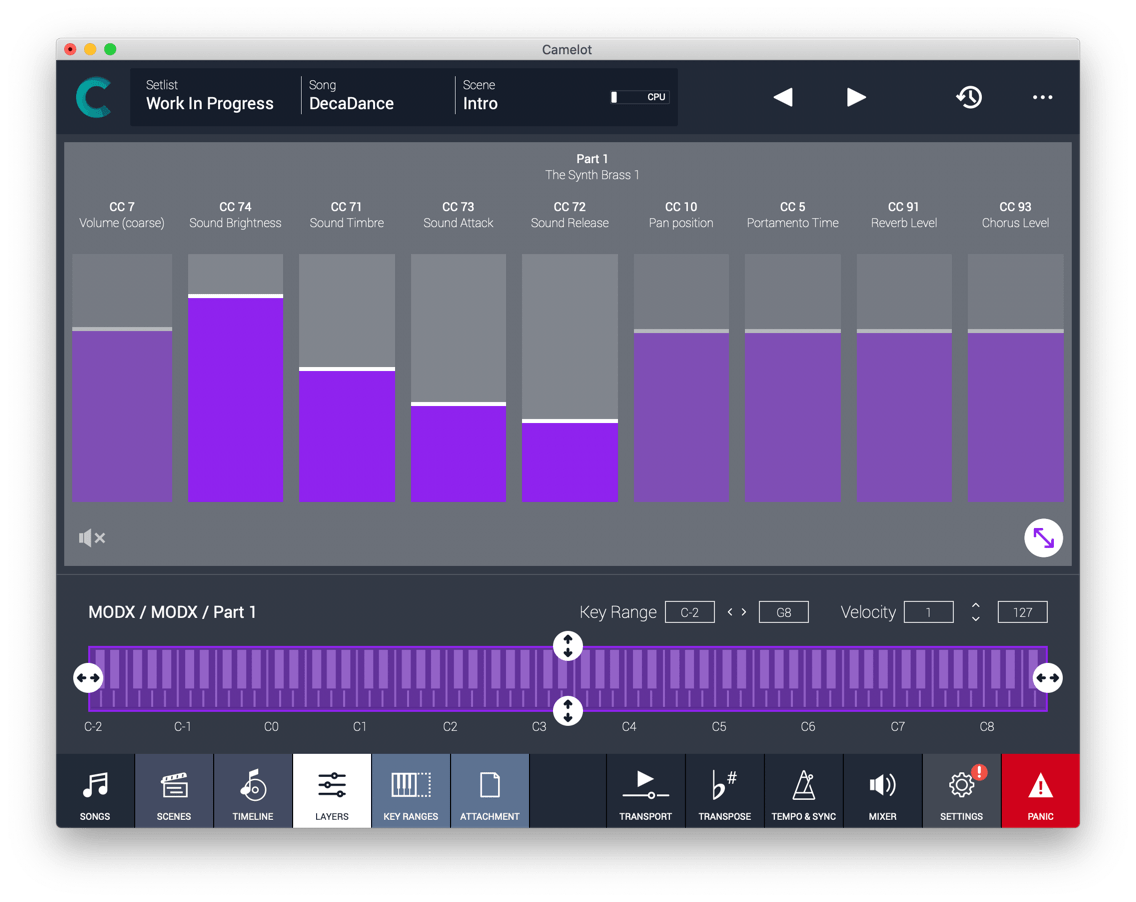 If you are familiar with MPE Controllers, you know that it requires time to build a multipart preset that can be played by them. Camelot allows you to select a sound preset with ease from a multi-part hardware instrument and replicates it to the other MIDI channels with the same pitch bend range and level. Easy.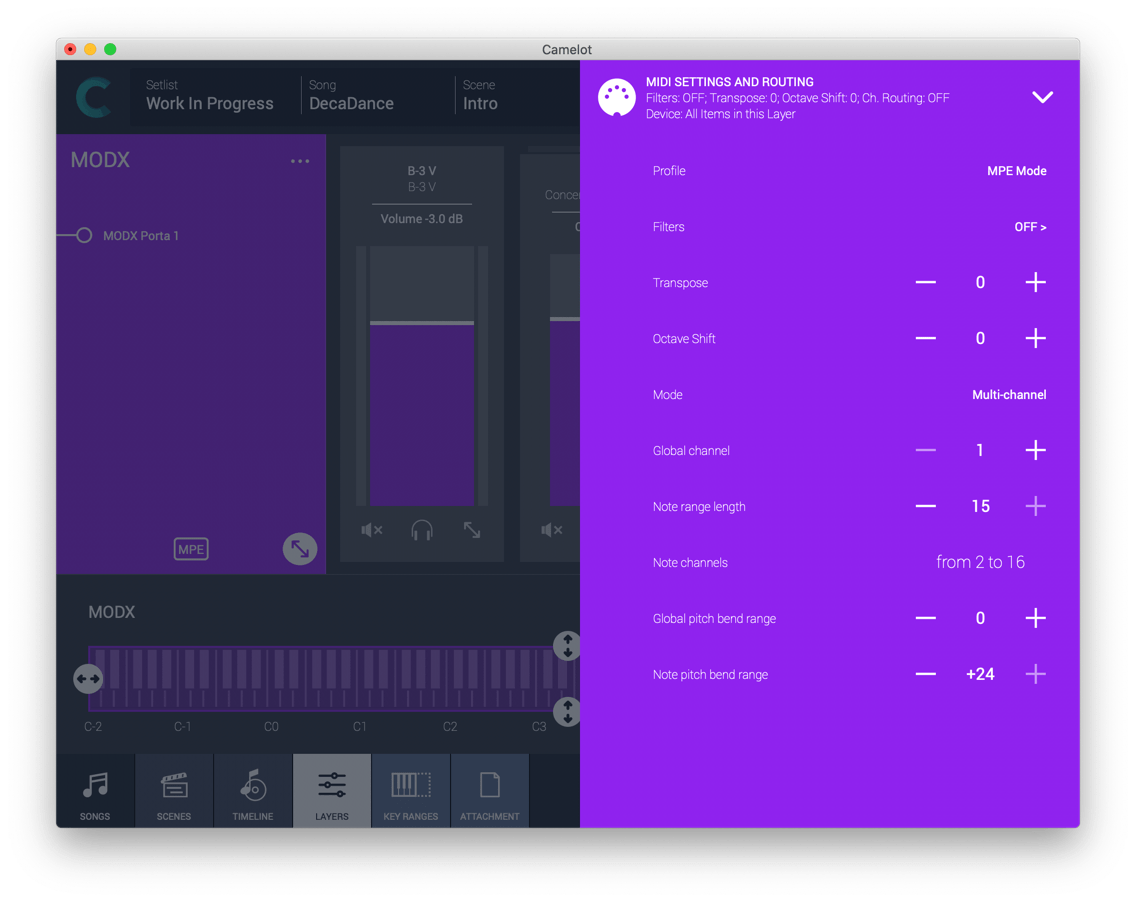 You can switch modes or manage multi-part patches in Camelot without accessing the panel of your instruments.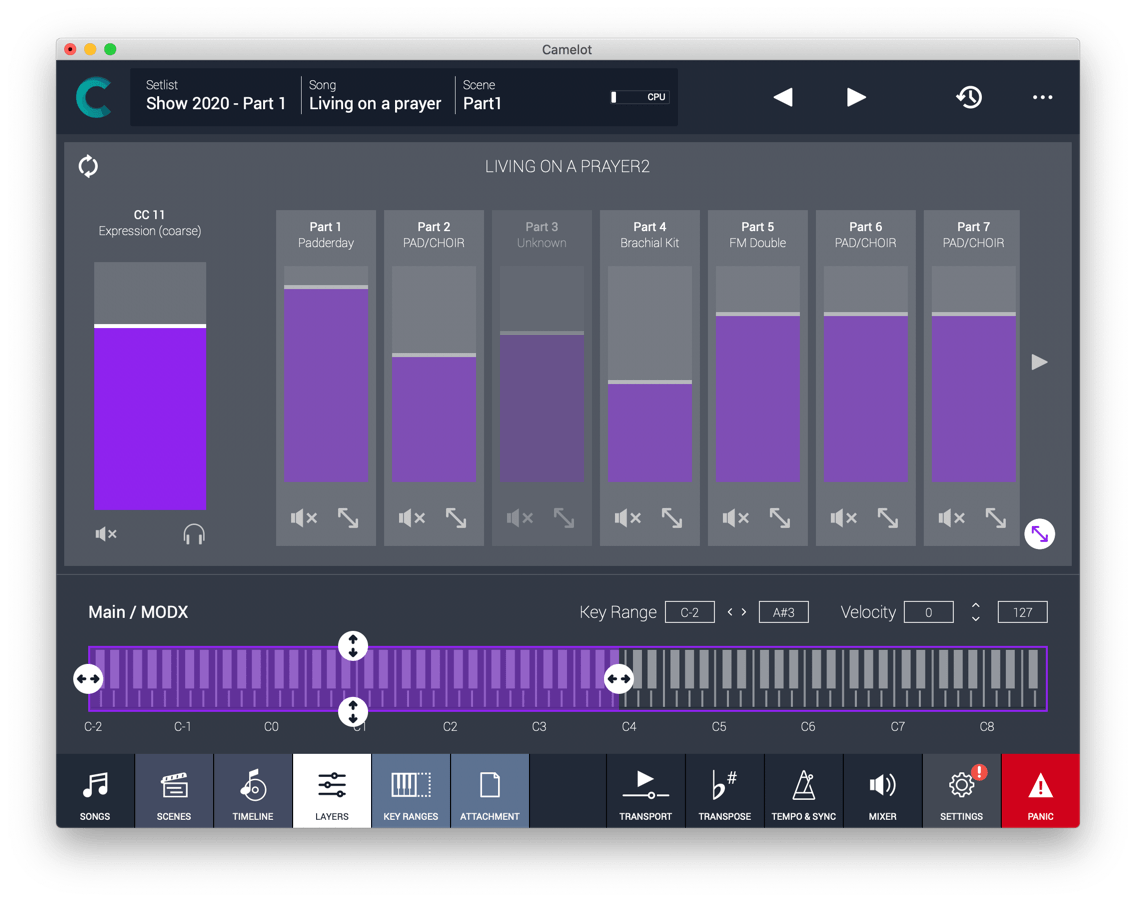 From Camelot 2.0 you can have separate instances of Smart Maps to manage multiple devices of the same model, so you can have, for example, a Yamaha Montage 6 and a Yamaha Montage 8 at the same time with separated maps and presets lists.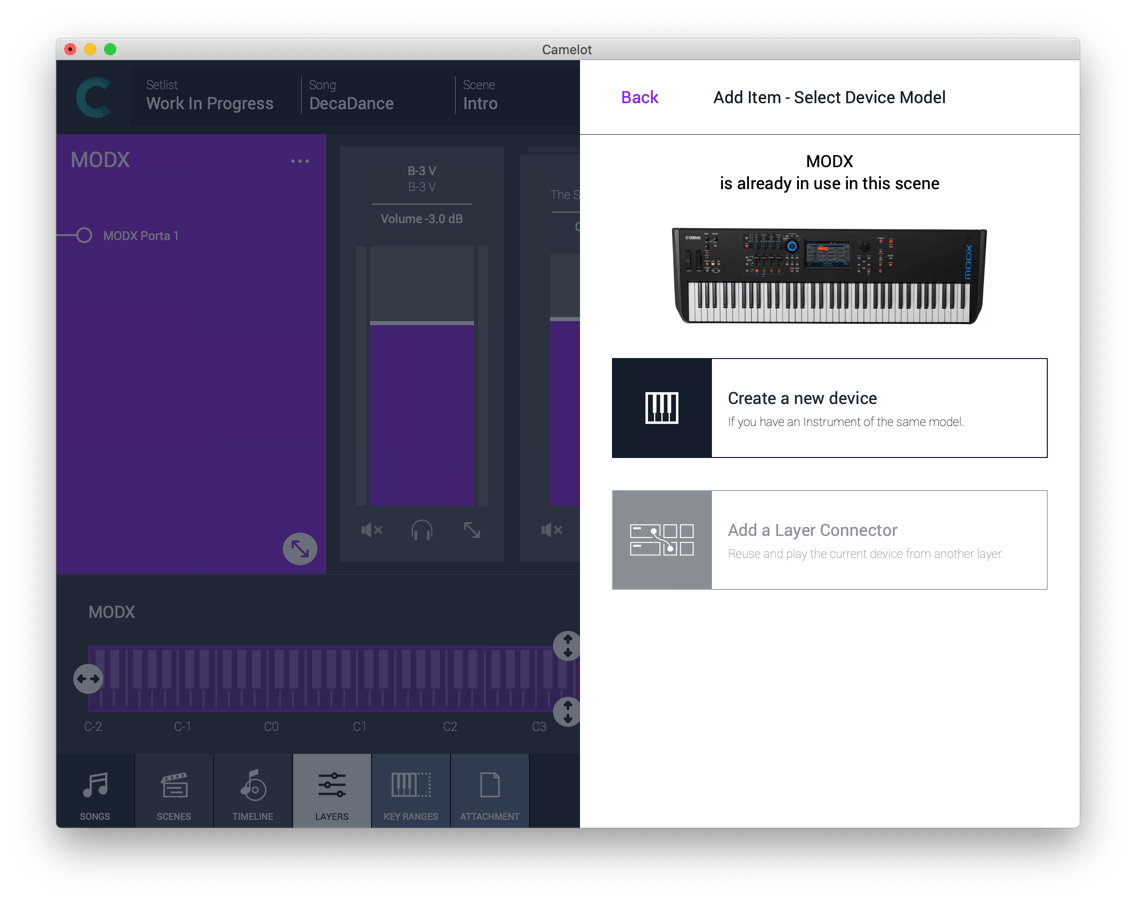 SOFTWARE INSTRUMENTS & FX HOST
Extend your sonic choices by adding Software instruments to your performance. Depending on your system, Camelot allows you to host plugin instruments on each scene. On laptop/desktop systems (Windows and macOS) are available VST and AU formats, on iPad (iOS) Audio Unit v3.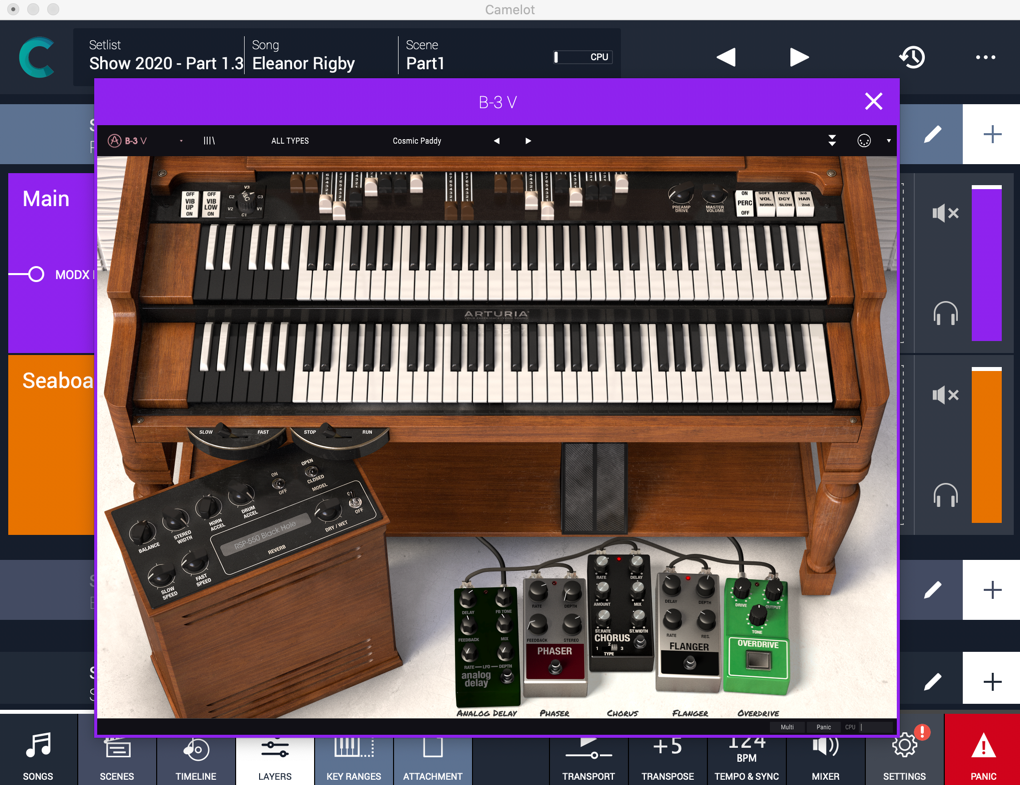 Camelot can generate sounds by playing Software Instruments and also playback Audio Files for backing tracks. Software Instruments are loaded and controlled on each Scene from the Layer View. In this section there are local faders that allow direct control for each track level, mute or solo options, and access to the output settings, to select the output channels. You can also have the big picture on mixing with the convenient Mixer expandable panel on the footer.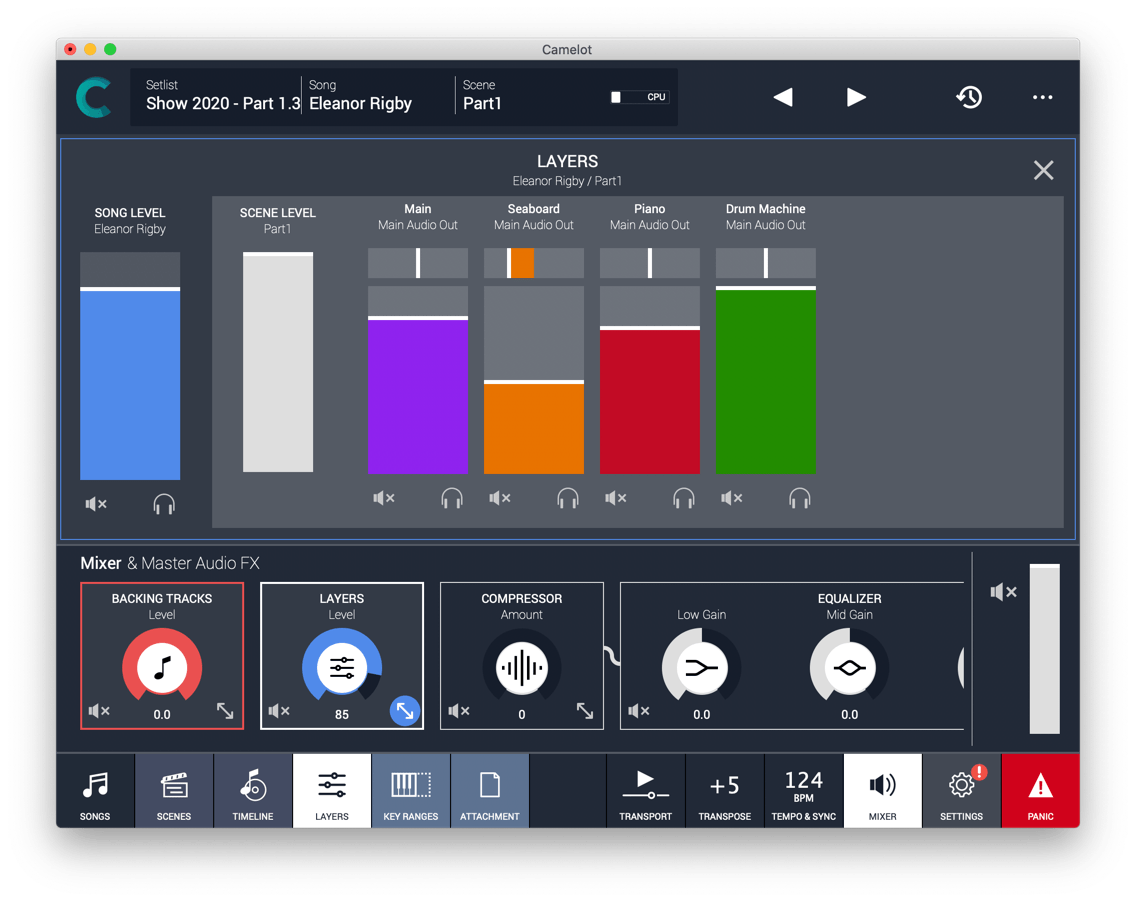 Extend your sonic choices by adding Software FX to your performance. Depending on your system, Camelot allows you to host plugin instruments on each Layer as an Insert FX. On laptop/desktop systems (Windows and macOS) are available VST and AU formats, on iPad (iOS) Audio Unit v3.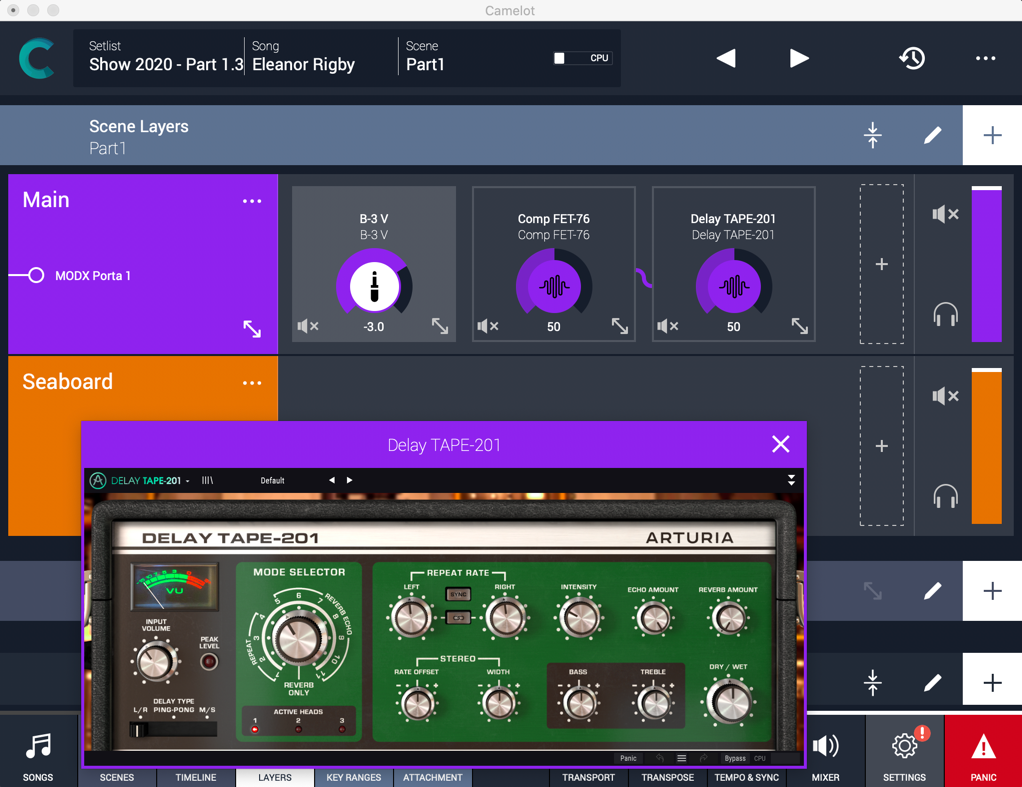 By default, any Layer is assigned to the Main Audio Output. You can always change the output used for a Layer by clicking on the output shown for the Layer in the Layers view. But there's much more to the Main Audio Output! Any Layer can benefit from the Master FX (compressor, EQ, delay, and reverb) available for processing audio sent to the Main Audio Output. The convenience of these onboard FX can't be overstated. The Master FX settings apply to the entire Setlist, so you can adjust your mix at each show to ensure you sound the same with each sound system and venue as you did in your studio or during rehearsals. This straightforward workflow is great most of the time, but bypassing the Master FX is easy when you need more flexibility. Output assignments are flexible, too. The Main Audio Outs can be set to play through any available channels, and multiple outputs can be selected for each source item to provide quick monitoring of any track.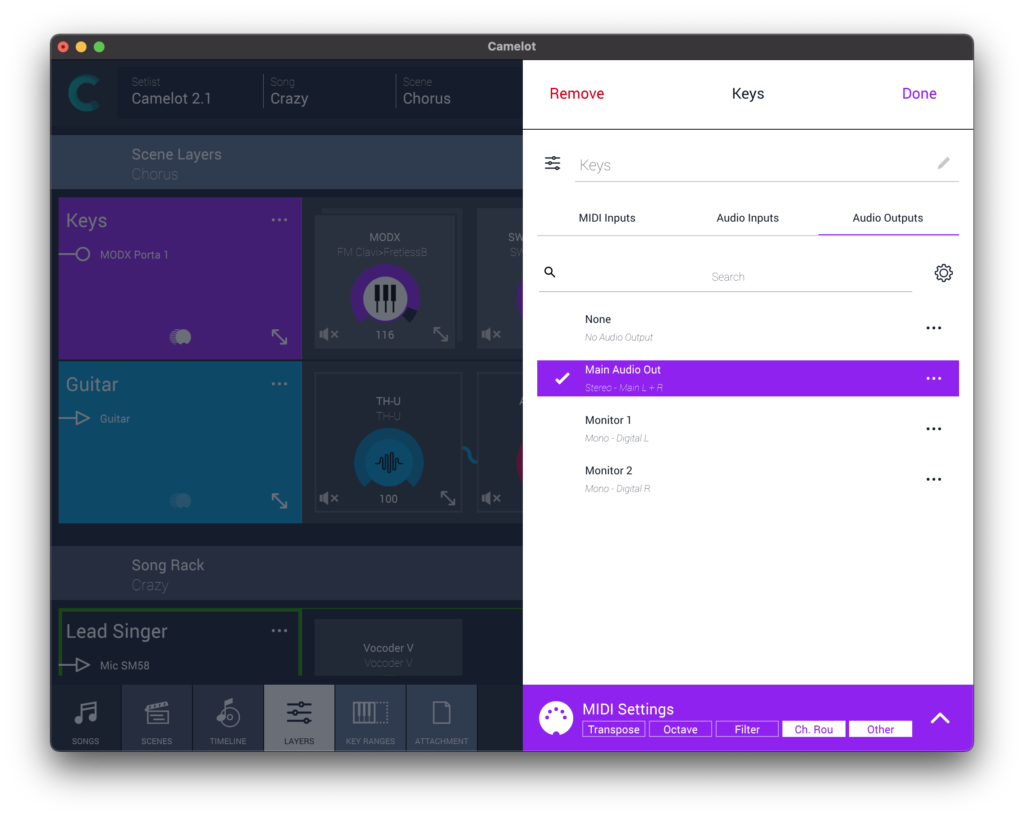 PDF MUSIC SCORE READER
Perform without worries! You can read your Chords, Music Scores, Lyrics directly in Camelot. Simply attach PDF, PNG, and JPG files on each Scene or Song.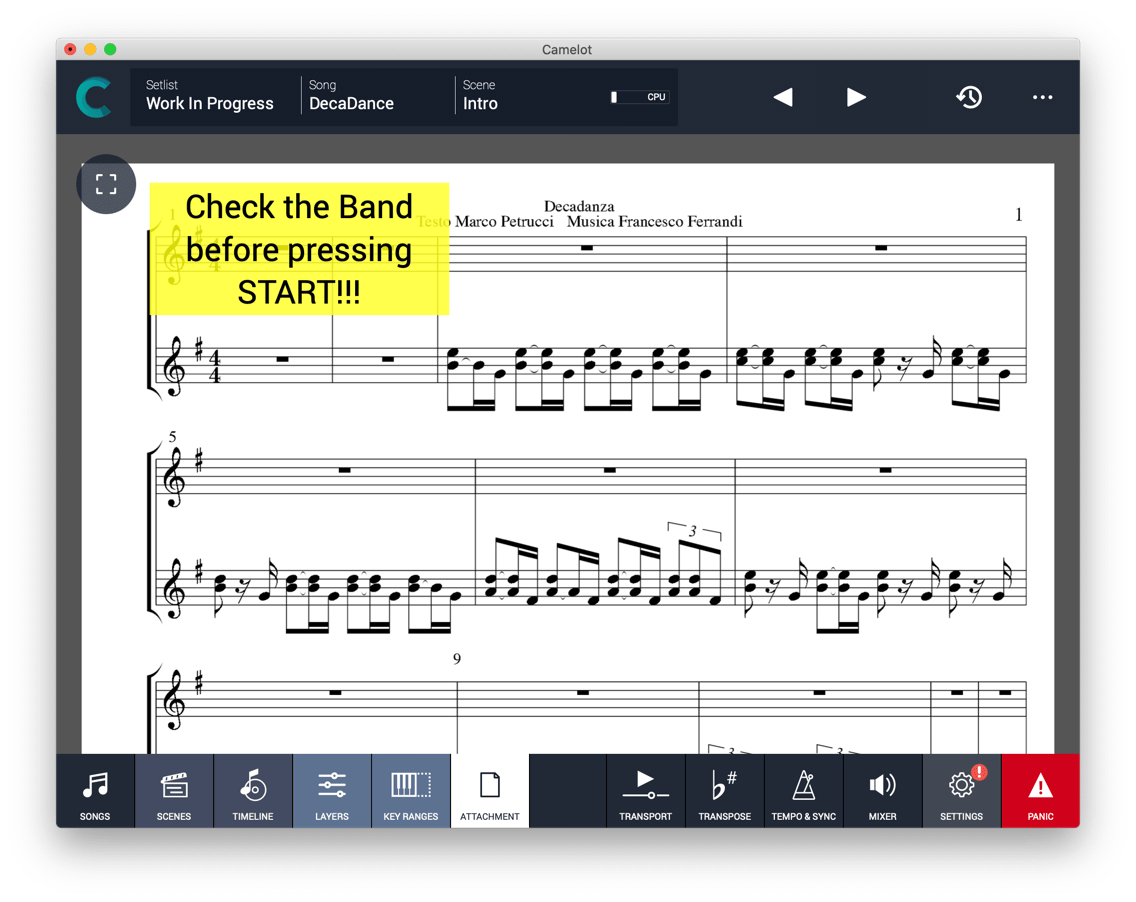 View your attachments on one or two pages. You can also select if you want to scroll or switch pages for browsing.

Write your own annotations and place them on top of any attachment or on a convenient annotation board.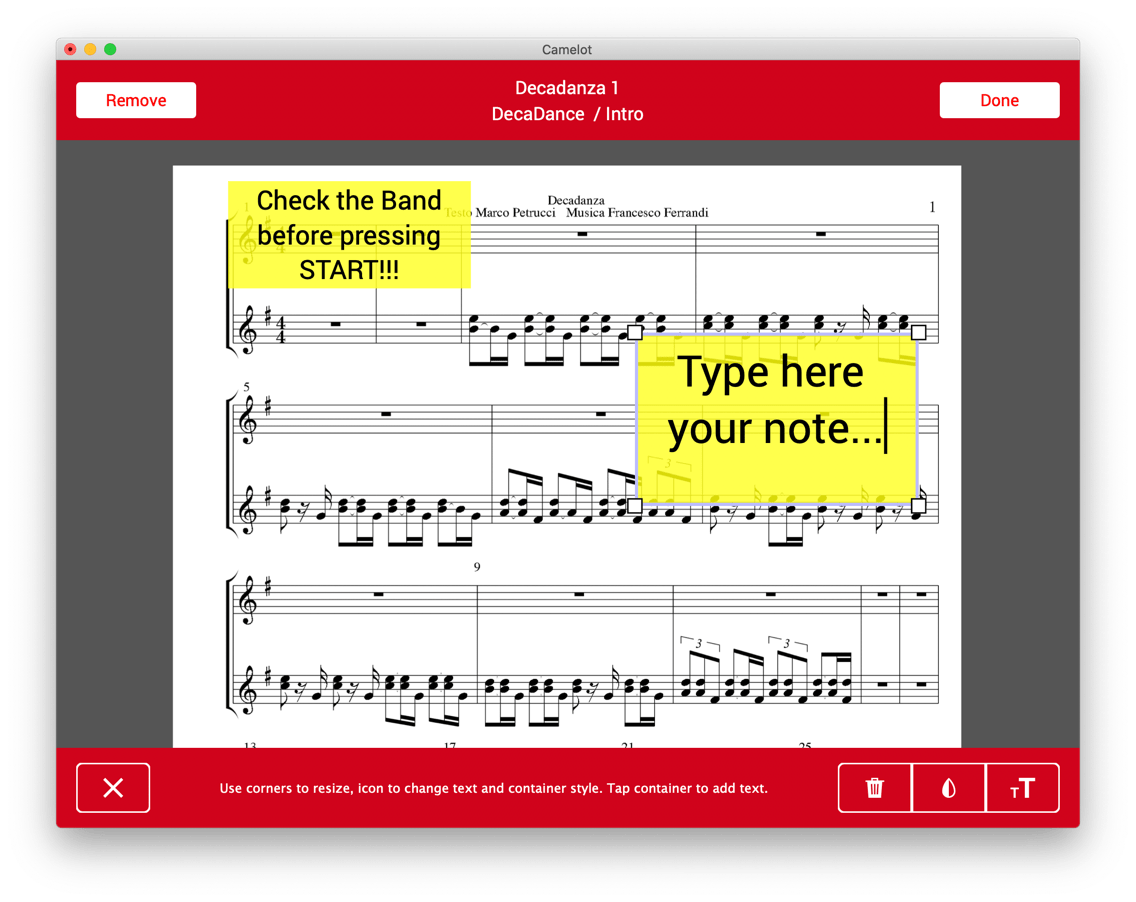 MIDI PATCHBAY AND ROUTER

SMART SCENE TRANSITION
The Smart Scene Transition in Camelot is unique because it not only allows you to switch scenes without sound interruptions from audio plugin instruments, it also takes care of smooth MIDI transitions between different routings and configurations. For example, if a MIDI device is not in use in the scene you are transitioning to, you will not get stuck notes because the MIDI instances from the previous scene will stay alive until you release your finger or the sustain pedal.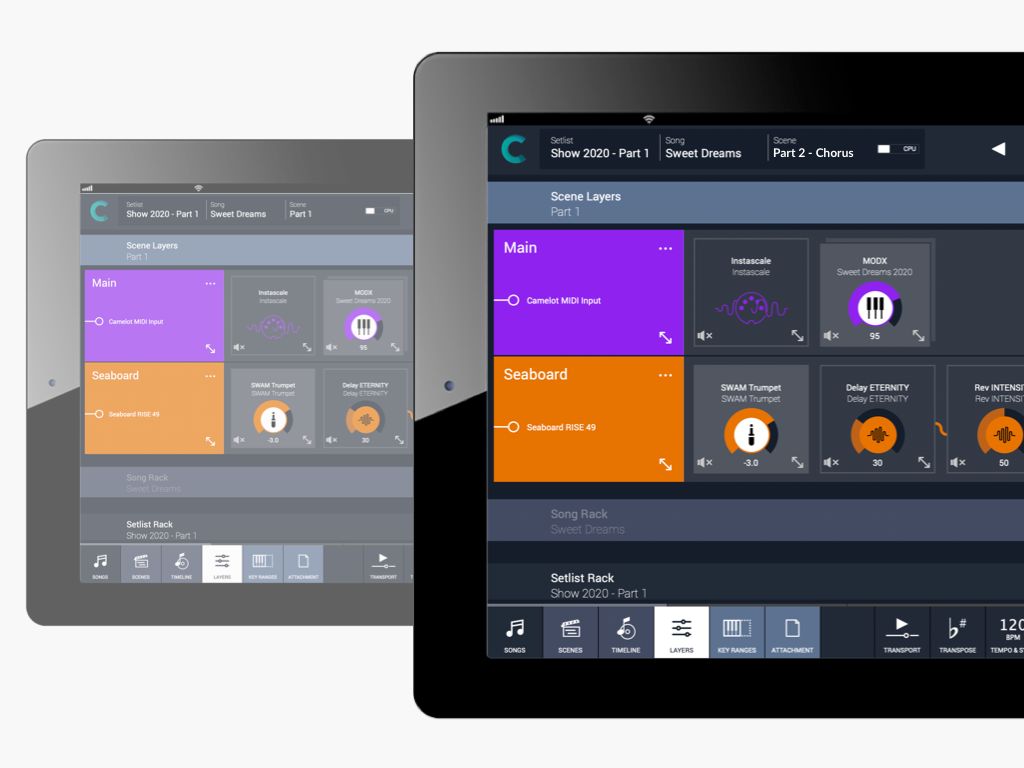 Digital Mixer
The Audio and MIDI settings for each layer now allow an audio input channel to be selected, in addition to MIDI input and audio outputs. Any external audio source can be processed by Camelot, making it a powerful digital mixer that can apply audio processing and FX to any instrument or vocal.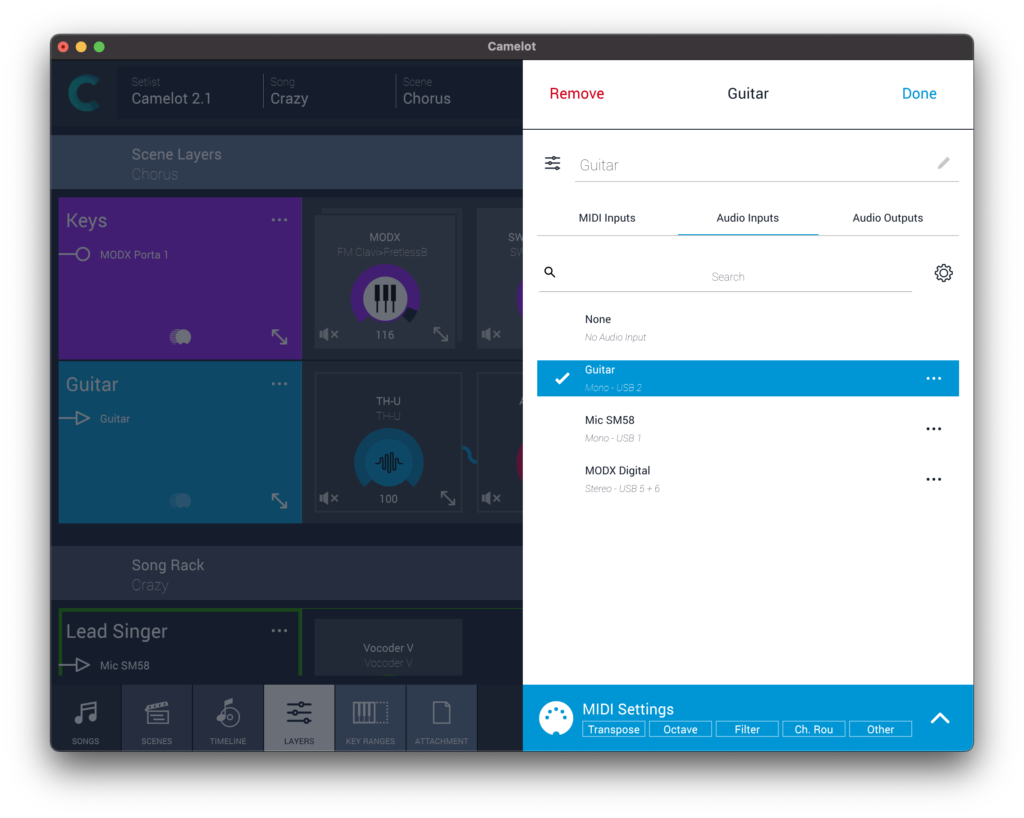 Any software instrument or FX plugin can have additional audio inputs for auxiliary purposes, for example a synth with a vocoder module can use it to connect the mic or to trigger the compressor envelope to create a sidechain effect with the audio coming from the bass drum
Hardware keyboards or synths being managed with a MIDI SMART Map or MIDI Program now also can be associated with an audio input, enabling you to use audio effects plugins to process hardware instruments just as you do with software instruments.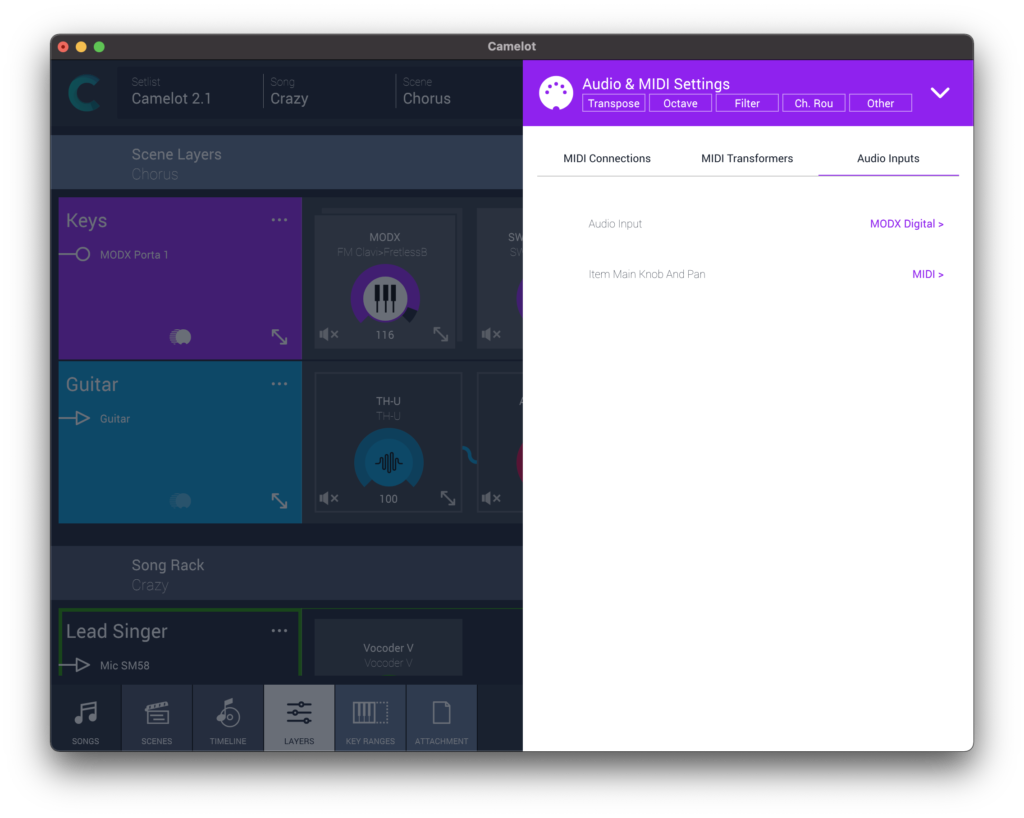 The ability to send audio from one layer to another opens up endless routing options For example, FX buses can be set up by creating a Layer containing only FX, and then inserting an Audio Layer Connector on each layer you want to process. This provides a dedicated send level for each layer. An Audio Layer Connector can be placed anywhere in a Layer signal path, allowing you to pick off audio before or after any processor in the Layer.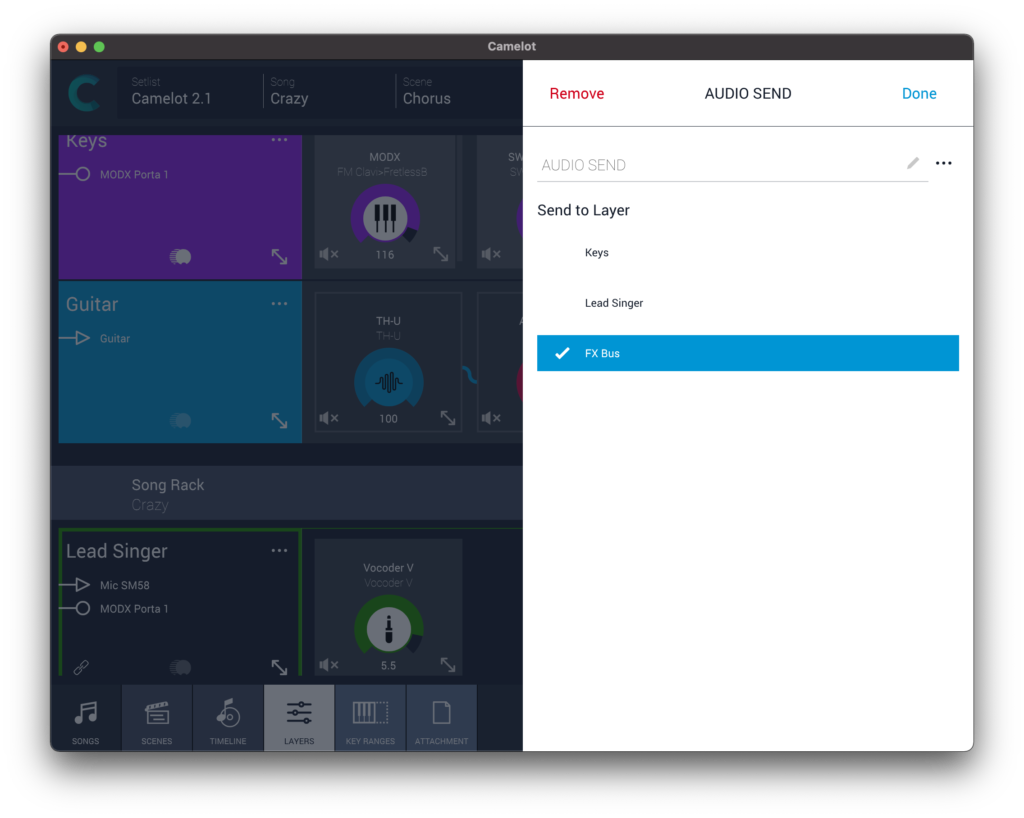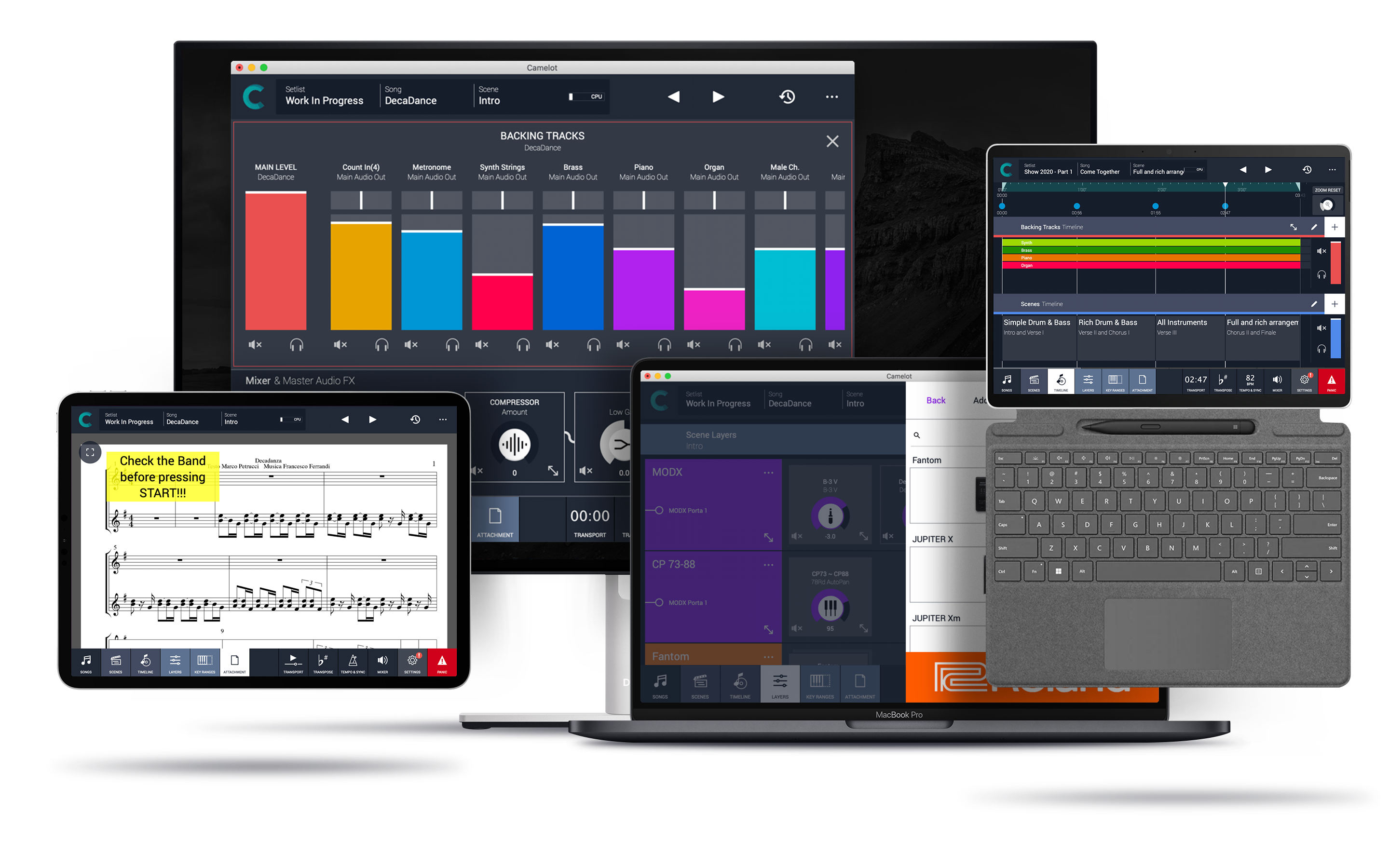 CAMELOT – TRY & BUY
Camelot runs on iPad, laptop and desktop
35.99 EUR / 29.99 USD 22.99 EUR / 19.99 USD
iOS iPad version
149 EUR/USD
99 EUR/USD
Mac & Windows